LUSC clinic activity during July and August 2020 is being done in alignment with the State of Massachusetts Phase III, Step 1 requirements, Massachusetts Youth Soccer Return to Soccer Guidelines for Phase 3, and Town of Lexington Recreation Phase C guidelines in effect as of July 13, 2020.
1) The clinic activities will be individual and group skills only (no contact) for rising 4th-8th graders, grouped by grade.  Sessions will last 75-90 minutes, with 30 minutes between each session. Only two sessions a day will be held overall.  Each player may only attend one session each week. The cohorts will remain the same for the duration of the clinic.  No walk-ins are allowed.
2) LUSC will have no more than 22 players training in a group, with two coaches and a group coordinator.
3) All training activities will be done with physical distancing of at least 6 ft. Coaches are required to wear facial coverings and maintain social distancing of 6 feet from other persons at all times.
4) Each player will be assigned an individual player equipment / rest area for the duration of sessions. Please see diagram below for an example of how training areas will be set up.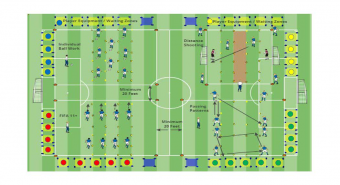 5) Cones will be laid out and picked up prior to and at the conclusion of each session with gloves. The coaches will use the 30 minutes between sessions to ensure each session is properly laid out to socially distance that particular age group. All cones will be disinfected at the end of each day. Individual space markers will be cleaned by the coordinator and/or coaches between and at the end of sessions.
6) As required by Massachusetts Youth Soccer, LUSC has assigned a COVID Safety Officer. The COVID Safety Officer is responsible for contacting the local public health department to review their guidelines and recommendations, and working together with all members of LUSC to ensure that the guidelines and procedures as provided by  Massachusetts Youth Soccer and the local health department are adhered to and implemented prior to, during, and after all soccer activities conducted by LUSC. Stacey Hamilton, President of LUSC, serves as the COVID Safety Officer.
7) All parents/guardians electronically sign a release form confirming that they have and will continue to comply with legislation and/or executive orders and/or advisories relative to COVID-19, including but not limited to, wearing of masks, social distancing, quarantining and exposure protocols. Please see the detailed Return to Play Requirements sent to all registrants.
8) All attendance will be tracked, and a confirmation of no symptoms will be obtained upon arrival for each child. Records for each session will be kept for at least 4 weeks post-session, or longer as required.