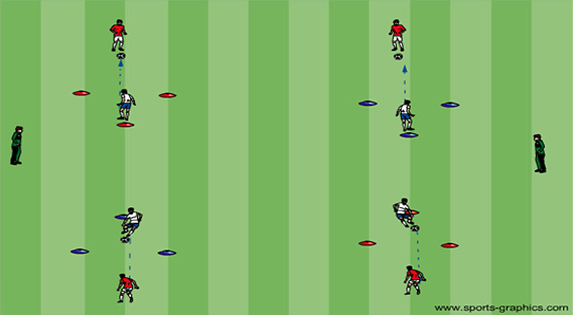 The Set-up: Create multiple 2 yard triangles, Players pair up (red/white) and are assigned a triangle, one ball b/n the two. The defender (white) starts inside the triangle with a ball. The attacker (red) stands 5 to 7 yards outside the triangle.
The Game: White passes the ball to red and quickly moves out to defend. Red tries to dribble through the triangle. Attackers get 5 points for dribbling through the triangle. Switch roles after each attack. Keep score!
Coach should focus on the Defender:
Immediate pressure to the ball ("close the space")
Speed of approach (Fast first couple of steps, but slow down as you approach the attacker)
Get side on ("steer the attack")
Soft on your feet, knees bent, weight slightly toward your back foot
Patient defending ("Don't dive in")
Variation 1: Play promotion relegation. Winner moves up, loser drops back.
Variation 2: Groups of 3, Rotation, Defender to Attacker, Attacker to Resting, Resting to Defender.
Note: 1v1 is very demanding so building in some rest into the activity can create a higher level of intensity.