LUSC Vacation Clinics focus on teaching age-appropriate technical soccer skills. While the focus is on skill development, clinics are done in an enjoyable teaching environment using fun, small-sided games.
LUSC runs four clinics in the spring and summer:
April Vacation Clinic: This has historically been one of our most popular clinics. In 2023 this clinic was run for 3 days (Tuesday, Wednesday, and Thursday) with each day being extended by an hour so we continue to offer a 12-hour program for the 1st through 8th grade players. We offer a 2-hour program for interested Kindergarten players.
June Kick Off the Summer Clinic: The Kick-Off the Summer Clinic is also a very popular program. This is a 4-day, 12-hour clinic with a more relaxed atmosphere to ease into the summer.
July Coed Mid-Summer Clinic: Keep your touch through the summer with this 4-day, 12-hour clinic.
August Preseason Clinic: The Preseason clinic is a great way to get back in touch with friends and to reacquaint yourself with the ball prior to the start of the fall season. This is a 4-day, 12-hour clinic.
All clinics are overseen by LUSC Director of Coaching Brendan Donahue and assisted by the same professional coaches that help coach our fall and spring team practices. Additional staff are hired by the DOC to ensure a high quality of instruction. Clinics maintain a coach-to-player ratio of 12-to-1.
The LUSC Vacation clinics require this CAMP FORM. You will be required to complete this form and bring it with you on the first day of the clinic, since LUSC must collect the forms before camps begin.  No players will be allowed to stay at the clinic without this form and vaccination details.

NOTE: Please review our Refund Policy.
---
Spring/Summer 2023 Information
In 2023 all spring and summer vacation clinics are at Diamond Middle School. For each clinic, Friday will be reserved as a rain date.
Clinic
Grade Level
Dates
Time
Cost
Register
April Vacation*
K – 8th
Apr 18-20
(Tue-Thu)
K: 9:00 – 11:00
$75
1st-8th: 9:00 – 1:00
$150
June Kick Off the Summer
1st – 8th
Jun 26-29
(Mon-Thu)
9:00 – 12:00
$150
July Coed Mid-Summer
1st – 8th
Jul 17-20
(Mon-Thu)
9:00 – 12:00
$150
August Preseason
1st – 8th
Aug 21-24
(Mon-Thu)
9:00 – 12:00
$150
* Goalie training is available each day for 3rd grade and up. 
LUSC Spring & Summer Clinic Coaching Staff
Clinic Director: Brendan Donahue, LUSC Director of Coaching and Current GU14 LPDA Coach
Coach Donahue holds his USSF "A" License, NSCAA Premier Diploma and US Youth Diploma. Coach Donahue will be present each day and work with all players throughout the week.
3rd through 8th Grade Co-Director: Tom Heimreid, LUSC Assistant Director of Coaching
Coach Heimreid became the LUSC Assistant DOC on January 1 st 2013. Tommy holds his NSCAA Director of Coaching and NSCAA Advanced National Diplomas. Tommy was a three time captain and four year starter at Northeastern University where he earned both All America East and All Rookie team honors. K-2 nd Grade Co-Director: Joe Dincecco- USSF "B" License, NSCAA Advanced National Diploma, LPDA BU12/GU12 Head Coach, 10+ years of NCAA Collegiate Coaching
Lead Staff
Christian Figueroa. FC Stars Boys Director of Coaching Former Head Coach of the UMass-Lowell River Hawks
Christian and his staff were named the National Soccer Coaches Association Staff of the Year in 2011 for the NCAA Division 1 East Region. Christian led the River Hawks to a 13-1-2 record and a national ranking of #19 in the country.
John Grayson
NSCAA Premier Diploma, NSCAA National Goalkeeping Diploma, FA Leaders Award, will be leading the goal keeper training.
Lauren Lukis, Bentley College Women's Soccer Coach, Train Boston Instructor, and LUSC pro coach
Coach Lukis has become a fixture at many LUSC clinics throughout the year. Lauren holds her NSCAA National Coaching Diploma and was formerly a
member of the Breakers Reserve Squad and Boston Aztecs of the WPSL.
Thomas Ballenthin, BU16 LPDA Coach, LUSC Pro Coach
All State 2009, 2010 and All New England 2010 player at Lexington High School. 2014 NCAA Final Four Finalist and Big East Champion at Providence College
Ralph Ferrigno
2016 NE Hall of Fame Inductee, Former Tufts University Head Coach, Director of Boston Soccer Academy
Abigail DeAngelo, Current GU11 LPDA Coach, Former Bentley University and Rivier University Women's Goalie Coach
Former Coach at FC Stars and Abby Villa Soccer Club.
Hagop Kouchakdjian, Boys 2007 LPDA Blue Co-Coach
2016 LHS State Championship Team Captain (2x captain), Named to the MA 2016 All-State Team, 4-year letter winner at Hamilton College
---
What to Bring
Each clinic participant should bring the
following items each day:
Cleats
Shin Guards
Properly Inflated Ball
Snack
Water Bottle
Sunscreen
Sample Daily Schedule for July Clinic
8:50 to 9:15: Check In & "Street Soccer" (supervised free play)
9:15 to 10:45: Stations
10:45 to 11:00: Snack break
11:00 to 11:25: Juggling/Instep Training
11:25 to 11:55: Scrimmage
11:55 to 12:00: Clean up/Pick-up
Note: These clinics accommodate players of all abilities. Players are separated according to ability and preference of coaching style. It is an all-inclusive clinic that promotes soccer in a fun atmosphere and promotes learning the game in a manner appropriate to each player's needs.
All camps must comply with regulations of the Massachusetts Department of Public Health and be licensed by the local board of health.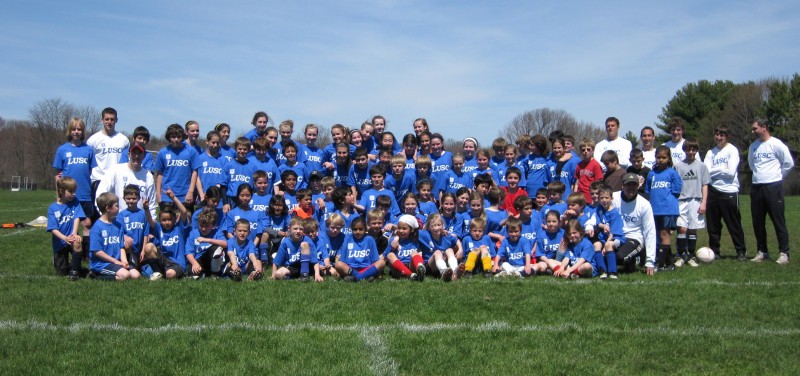 Save