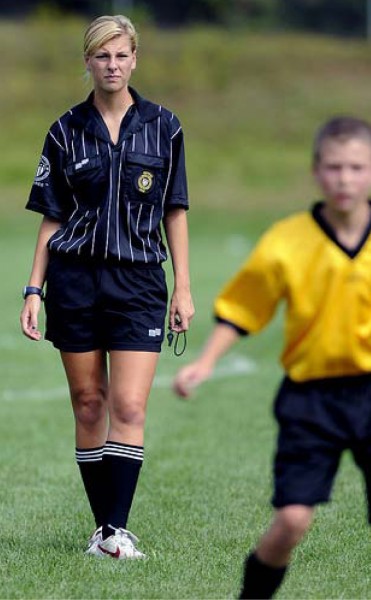 The starter course for travel referees is the "Grassroots Entry Level Course". You must be at least 14 years old, and complete online and in-classroom training.
 Details on how to become a travel referee:
Set up an account with www.massref.net and register to take the Grassroots Entry Level Course (choose any time or place that is convenient before the start of the next season). Certification typically is for the calendar year. However, classes offered in the summer allow you to be a referee in the fall and all of the following year.   The prospective referee is expected to pay the course registration fee.
To successfully complete the Grassroots Entry Level Course the candidate must be at least 14 years of age by April 30, complete a 4-6 hour online course, attend eight hours of classroom instruction, and pass a 50 question written test. (If the candidate is 14 by April 30, but not by the date of the course, please contact CourseAdministrator@MassRef.net to register manually.)
After successfully becoming certified, go to the BAYS website (bays.org) and complete the "Referee Registration". This gives you an account on BAYS to log in. Request to become a referee for Lexington and read the referee procedure handbook letting you know how the system works for accepting/rejecting and reporting games on BAYS.
Send email to the LUSC In-town and BAYS/travel referee coordinator, Ref-Assignor@LexingtonUnited.org and introduce yourself, give your email contact and let him know that you passed the Grassroots Entry level class, registered with BAYS and would like to be a referee for LUSC.
Buy a referee uniform kit (black referee jersey) at Tricon Sports store on Waltham Street.
Referees need to take a re-certification course each year usually offered starting in July. Sign-up at www.massref.net.
At the beginning of each season, the LUSC referee coordinator will schedule a mandatory meeting for all certified referees. New referees will be assigned an account on www.usofficials.com to manage their referee assignments with LUSC.
During the season, in-town games are accepted and reported on the US OFFICIALS website. On the other hand, BAYS travel games are accepted on BOTH US OFFICIALS and BAYS websites, and are reported on the BAYS website.
Referees are paid by LUSC and/or BAYS depending on the exact nature of th

eir game assignments during the season.

BAYS travel games are paid by BAYS, the rates are given on https://bays.org/pay_procedures
In-town Referees
Lexington United Soccer Club, together with Arlington Soccer Club, is offering a free referee course in the spring. It is a two hour course, focused on the laws of the game and referee mechanics. Individuals who complete this course (MYSA Genesis Referee Program http://mysareg.bonzidev.com/home.php) will be eligible to referee Lexington in-town games (3rd and 4th graders). This course is only for 12 and 13 year olds.
This is a great opportunity to start as a soccer referee. The games are easy to referee and are perfect for building confidence and learning the mechanics of refereeing. Referees that are actively participating in the MYSA Genesis program and are deciding to take the MSRC certification course once they turn 14 years old, can request reimbursement from LUSC for their certification course fee. (at the Assignors discretion).
For questions email the LUSC referee coordinator, at Ref-Assignor@LexingtonUnited.org.
Referee Links
Christianne Mager, Ref-Assignor@LexingtonUnited.org, (617) 642-0393