Registration is closed for the Fall 2022 program. Registration for the Spring 2023 program will be opened in April 2023.
TOPSoccer – $30
Fall 2022
Dates:  7 Saturdays: Sep 17, 24; Oct 1, 15, 22, 29; Nov 5 (No program Labor Day weekend or Columbus/Indigenous People's Day weekend)
Time: 1:30-3:00 pm
Location: Diamond Middle School, Lexington
TOPS (The Outreach Program for Soccer) is a community based program that is designed to meet the needs of children and young adults that have physical and/or intellectual challenges. The program is geared towards player development rather than to competition. We make it a fun and meaningful experience for your child. The program will be full of games and activities adapted in ways that ensure your child will learn at his/her own pace.
>> Watch a brief video from US Soccer
---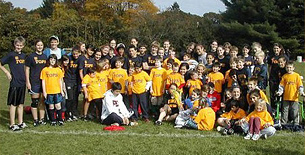 The program will improve the overall fitness, self-esteem and social skill of your child. With help from high school and parent volunteers, LUSC strives to have as close as possible a 1-to-1 volunteer-player ratio.
It is offered to Lexington residents and those from surrounding towns. The program is hosted by over a dozen other communities in Massachusetts.
TOPSoccer is sponsored by US Youth Soccer and Massachusetts Youth Soccer.