The Game: Two Red attackers attack two white defenders.  They try to score in either of the gates (pugg goals are the best).  Once Red is successful, scoring or taking a shot, the first two white players' in line immediately attack the Red teams' two goals.  The red shooter must circle the goal he shot at while his teammate quickly recovers "transitions from offense to defense" creating a temporary 2v1 (Pictured below).  When a team wins the ball during the 2v2 they try to attack the opposing teams' goals.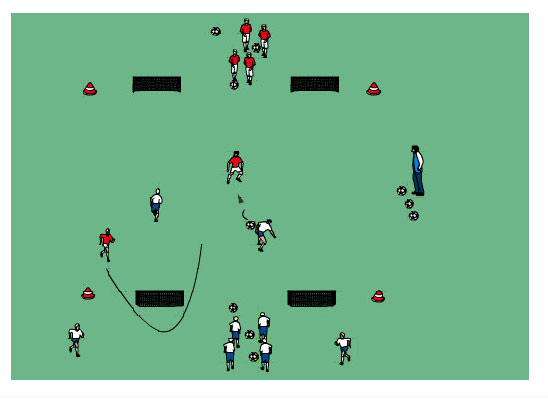 When the opponent has scored or taken a shot the defenders join the end of their line.  Players that are "off" should always have a ball at their feet ready to begin the "fast break attack".
Focus:
Taking a player on
Combination play
Running with the ball
2v1  and 2v2 defending
Recovery runs
This is a very demanding exercise.  12 to 16 players are ideal.
[
print/download this exercise
]
---
If you enjoy this exercise Coach Donahue recommends: