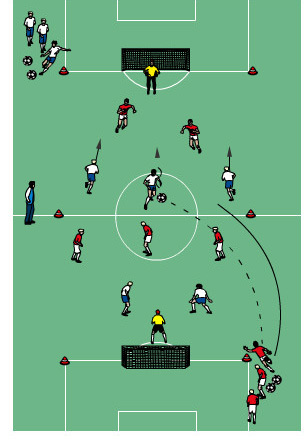 The Set-up: (as pictured) Full team, penalty box to penalty box, two goals, several balls and two different colored bibs.
The Exercise: The exercise begins with a red player serving a long ball into 3 white attackers. The white attackers should control the ball quickly and attack two red defenders at speed. The red player that served the ball should immediately make a long recovering run in an effort to make the 3v2 situation turn into a 3v3. If red wins the ball they should try to play the ball to the coach who is positioned out wide at the half way line.
Rotation:
The recovering defender should remain on the field as one of the two awaiting defenders while one of the original defenders jogs back to the serving line of their color.
Once the white attack concludes with a goal, shot, or loss of possession, the exercise repeats from the opposite direction (white serving into the 3 red attackers).
Coach should rotate the attackers with the defenders/servers every 3 or 4 minutes.
Focus:
Attacking at speed
Defending numbers down
Accurate passing over distance
Recovering at speed
This is a very demanding exercise, but a great exercise for an 11v11 team.
[
print/download this exercise
]
---
If you enjoy this exercise Coach Donahue recommends: