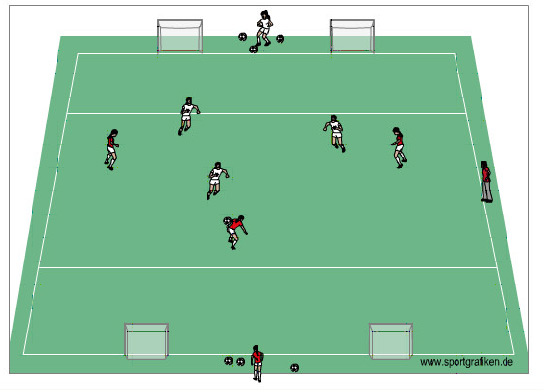 The Set-up: Divide the team into two groups of 4.  One player from each team acts as a server, the other three players play 3v3 to 4 goals (attack 2/defend 2).
Note: If you have 12 players, divide the group into three groups of 4.  One team would "rest" and keep the servers supplied with balls.
The Exercise: A "live" 3v3 game takes place.  You can only score from inside the Shooting Zone!
If a goal is scored, (example red scores), the team that scored quickly moves to take up positions to receive the ball from their server/teammate.  (Pictured below).
If the ball goes out of bounds, the team who would have been awarded the throw-in or goal kick "check's back" to receive a ball from their server.
Play games to 3 with the winning team staying on!
Rotate the server after each game.
Focus:
Learning through the game (can we recognize the 2v1)
Quick transitions
Proper entry passes
Fitness (the ball is almost never out of play)
This is an excellent exercise to teach players to work hard.  The defending team is NOT rewarded for giving up a goal by getting the ball.  They have to win it back!
[
print/download this exercise
]