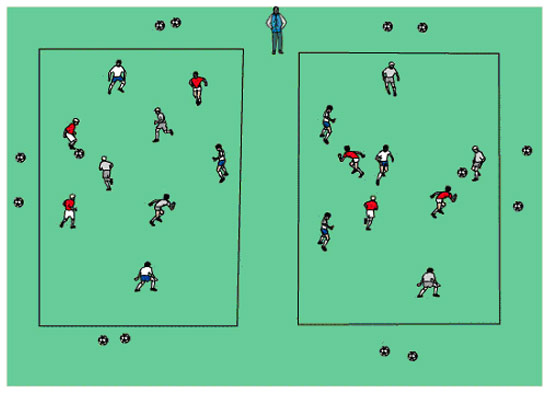 The Set-up: 2 Fields 25 x 15 yds.  (3 red/3white/3 grey per field)
If you have 9 players the 2nd field is unnecessary.  If you have 12 players play 4v4v4.
The Game: Two teams keep the ball away from the third team creating a 6v3.
The field on the left shows Red and White maintaining possession from Grey.  When Grey wins the ball they play to the team that didn't give the ball away.  The field on the right shows Grey and White keeping the ball away from Red.
Focus:
Quick Ball movement
Good Offensive spacing
Transition from offense to defense, defense to offense
Defending in triangles
Note: Coach can add restrictions, change size of the field.
You can progress to 6 v 6 v 6, for older and more experienced teams, by combining the fields.
[
print/download this exercise
]
---
If you enjoy this exercise Coach Donahue recommends: