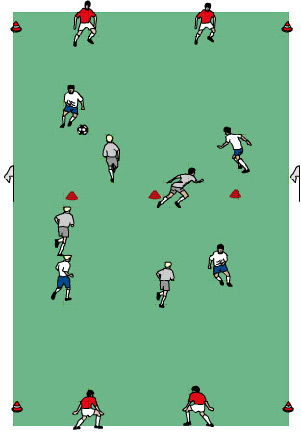 The Set-up: Field should be 40 yards long x 20 yards wide.
The Game: Two teams of four play against one another with four target players serving as goals.  The target players can move along the end line, they are not stationary.
The objective is to transfer the ball from one half of the field to the other.  Once you've crossed the half way line you can score by playing into either set of targets and receiving the ball off of them. This will promote supporting the penetrating pass!  Target players' should have a maximum of two touches.
Games should be to 5 with the winning team staying on.
Coaching Observations:
Can we look forward early with a deep pass?
Do we transition to support?
Can we move the ball quickly out of the area we won possession?
Variations:
5v5 plus 5 (4 targets and 1 neutral player)
6v6 plus 6 (4 targets plus 2 supporting flank players)
[
print/download this exercise
]
---
If you enjoy this exercise Coach Donahue recommends: