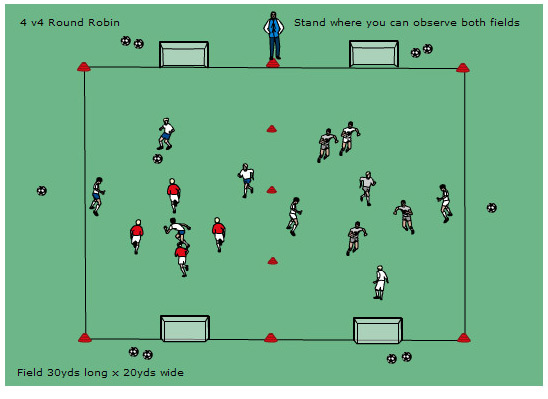 The Set-up: Create two fields app. 30 x 20 yards side by side. Divide team into four groups of 4 with different color pinnies.  Games should be 5 to 7 minutes long.  Keep score.  Each team should play each opponent (3 Games).
The Game: (as pictured). In the 4v4 set-up you should allow the game to teach the players, but there are several things a coach can observe/encourage:
Who is "stretching the field" (providing the length)
Whose providing the width.  (Support to the player on the ball shouldn't be square, but at an angle).
Defenders should try to remain compact (close together) the attackers should provide enough movement that they can pull the defenders apart.
Note: You can use several variations or change the size of the goal depending on your objective.  Example-
If my team does a poor job pressuring the ball, I will play with a slightly larger goal.  This will force my defenders to get closer to the attacker on the ball (close down space).
If my team is slow to step up as a group on the attack I'll add the restriction that no goal counts unless all attacking players are over the midfield line (not pictured).
This is a great exercise to lead into the Four Goal game.
[
print/download this exercise
]
---
If you enjoy this exercise Coach Donahue recommends: