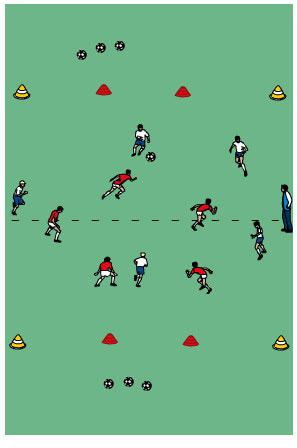 Set-up: (as pictured) Field should be a rectangle (40 yards long x 20 to 25 yards wide).  Create a clear half field line.
Coach should stand at the halfway line and observe the game.  Try to keep comments to a minimum, but encourage all players to "push up" and "stay connected" with their teammates when attacking.  All players must be over half field for a goal to count!
Focus:
Stay "connected as a team"
Taking space when team is on the attack
Immediate defending as a group when you lose possession "pressing"
Variation: Play the same game with goalies to large goals.
[
print/download this exercise
]
---
If you enjoy this exercise Coach Donahue recommends: