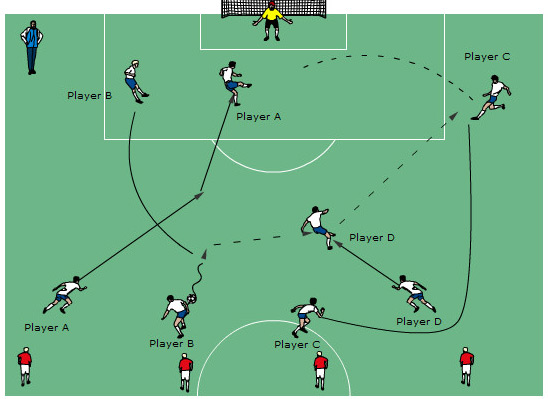 The Set-up: Half the field, one large goal, several balls.
The Exercise:
All Players (A, B, C, D) begin their movement once Player B begins to dribble the ball. D should run diagonally inward to support Player B. Player C should immediately make a long overlapping run into the space opened up by Player D's movement. At the same time Player A should make an advanced inward run.
Player B now passes the ball across to a supporting Player D.
Player B should immediately make an overlapping run into the space behind Player A.
Player D should play the ball wide into the path of Player C.
Player A should cut directly toward the goal.
Player C should quickly gather the ball and cross it to Players A and B.
This exercise is best with 12 or more positional players. This will allow the activity to be continuous while allowing for players to recover to their original position as the next groups of 4 head toward goal.
[
print/download this exercise
]
---
If you enjoy this exercise Coach Donahue recommends: