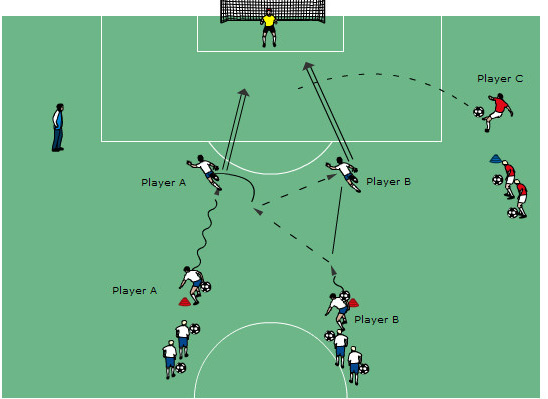 Set-up: half-field, goal, several balls, a few discs.
The Exercise:
Player A "runs with the ball" (dribbling at speed), Player A shoots the ball as he approaches the penalty box. Once Player A shoots the ball, he moves back toward player B.
Player B now dribbles and passes the ball to Player A.
Player A passes the ball (one-two) into the path of player B.
Player B shoots the ball.
Player A and Player B now crisscross positions (not pictured) to receive a cross from Player C. Player C should allow for A and B to change positions before delivering the cross.
Focus:
Dribbling at speed
Shooting
Precise Passing
Quality Crossing
Variation:
Add a defender in the penalty area to apply various levels of pressure.
Change the location of the crossing line to the left side.
Rotation: Coach should rotate the lines every 3 or 4 minutes.
[
print/download this exercise
]
---
If you enjoy this exercise Coach Donahue recommends: