The Set-up:  (as pictured) Team is divided in half.  One group is in a line approximately 10 yards from a two yard gate that has a single defender.  Two balls should be placed a yard or two from the discs.  The remaining players should stand next to one of the coaches. 
The Exercise:  The player in white should run toward the defender, feint in one direction and quickly attack either ball.  Once the attacker commits to a ball a live 1v1 ensues.
Rule:  The attacker must get into the shooting zone before shooting the ball.  The defender should remain on his/her toes, but cannot leave the gate until the attacker commits to a ball.
Focus:
Quick Reaction
Deception
Positive 1st Touch
Defensive recovery
Attacking at speed
Rotation:  After you defend you join the attacking line.  After you attack you collect the ball and join the defending line.
Once the attack occurs the coach should replace the ball and the next defender enters the gate.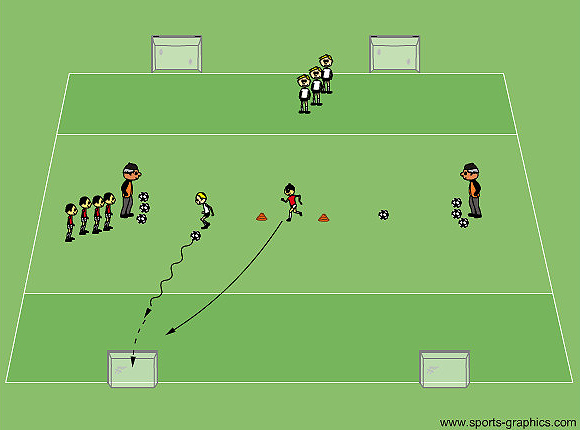 Download the exercise: [Dynamo Zahgreb Quick Reaction]