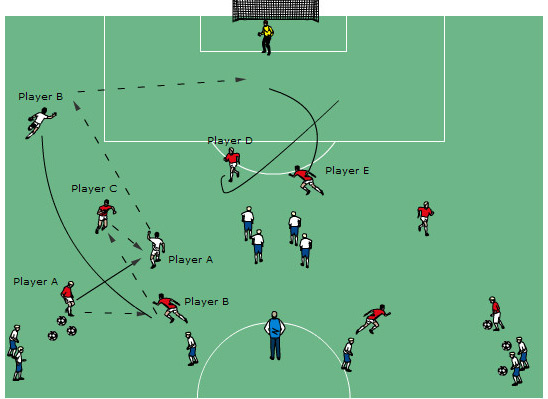 The Set-up: as pictured. The players in the white shirts, blue shorts are resting.
The Exercise: Player B drifts away (not pictured) and "checks back" to player A. Player A passes to player B and begins to move centrally up field. Player B passes to the player C and makes a long overlapping run. Player C drops the ball centrally into the path of player A. Player A plays the ball out wide for Player B. Player B serves the ball across to Players D & E.
Coach should make sure Players D & E time their runs and don't run in straight lines.
Note: Once the ball has been served on the left side (as pictured) the same movement should start up on the right. It is important that you have 6 strikers (3 pairs) to keep the exercise flowing. This is a very demanding exercise that incorporates several attacking principles: Passing, moving, crossing, and finishing!
Coach should demand that everything is done at speed and players call for the ball!
[
print/download this exercise
]
---
If you enjoy this exercise Coach Donahue recommends: