Check out this interview of Director of Coaching Brendan Donahue in the "5 Questions with…" series at SoccerAthleteFC.com.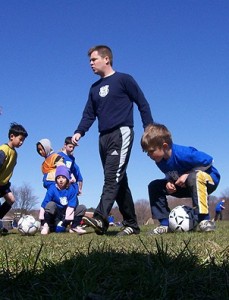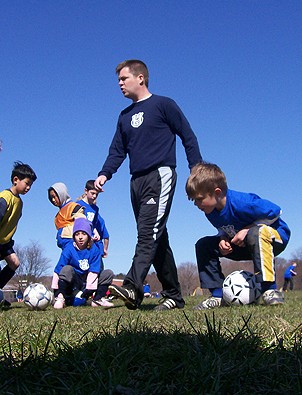 On January 1st, 2006 Lexington United Soccer Club (LUSC) hired Brendan Donahue as its first full time Director of Coaching. Brendan arrived in Lexington with an extensive coaching background at both the collegiate, over a decade of coaching at the DI and III levels, and club level (former Boston Blast Technical Director). Brendan, a graduate of Middlebury College, currently serves on the Mass Youth Soccer Instructional Staff on a part time basis as well as being head coach of the GU16 Olympic Development Program Coach Donahue has been instrumental in developing LUSC into a full service soccer club that serves over 1,300 Lexington families and 280 volunteer coaches each year.
During Brendan's tenure, LUSC has introduced:
The Lexington Player Development Academy (LPDA)
TOPS Soccer
The Juggler's Corner
Winter Pick-Up Soccer
Advanced Skills Sessions
April Vacation Clinic
July Mid-Summer Clinic
Speed & Agility/Injury Prevention Training
Coach Donahue holds professional licensure from the:
US Soccer Federation, USSF "A" License
National Soccer Coaches Association of America, NSCAA Premier Diploma
US Youth Soccer, National Youth License
Coach Donahue has had articles published nationally in the NSCAA Journal, US Youth Soccer's Coaches Connection and his piece on "Maximizing Your Warm-up" was presented at the USYSA National Convention.
Coaching Philosophy: Coach Donahue is a firm believer in Guided Discovery and learning through the game. Instead of giving our players the answers to the problems the game presents, can we choose exercises that are age appropriate and challenging, but not overwhelmingly so, and become skilled at asking the proper questions that lead the players' to find their own solutions. You don't create problem solvers, and in turn better players, by providing answers; you do so through guidance and patience.  
The Great Pianist  
"A great pianist doesn't run around the piano or do push ups with the tips of his fingers. To be great, he plays the piano. He plays all his life and being a great footballer is not about running, push-ups or physical work generally. The best way to be a great footballer is to play football" – Jose Mourinho Real Madrid Head Coach