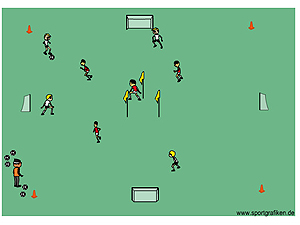 The Set‐up: On a 35×25 yard field create a 3×3 triangular goal in the middle of the area with a counter goal (discs or puggs) on each sideline. Coach should divide the group into two equal teams (4 white v 4 red) and have a supply of balls to keep the game moving.
The Game: Play two 5 minute periods! In the 1st five minutes, the white team can score by shooting the ball through the triangle (along the ground) or connecting five passes. The red team must defend the triangle and try to score in any four of the counter goals. After 5 minutes the roles reverse.
Restarts: When the ball goes out of bounds, it can be re‐entered by:
Coach playing a new ball into the field
Throw‐in
Pass in
Dribble in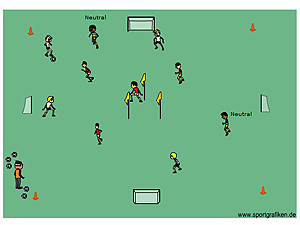 Focus:
Keeping possession of the ball
Penetration
Movement off the ball
Communication
Competitiveness
Variation 1: Have the team defending the triangle nominate a goalkeeper (exercise is 4v3 plus keeper) and allow shots goals to score that are below shoulder height.
Variation 2: (pictured right) Add two neutral players to the game (4v4 plus 2). The neutral players are always on the team that has the ball. This should make it easier for the teams to maintain possession.
Download the exercise: [Triangle Goal with Counter Goals]