Dear LUSC families,
We hope that you and yours are well during these difficult times.
This will be the 11th time that LUSC has so generously partnered with our family to collect and distribute personal soccer gear in Nicaragua. Nicaragua has been hard hit by COVID-19 and needs our support more than ever!
We ask that you please consider donating your used but still usable soccer equipment to disadvantaged children in Nicaragua. Your donations will support a local Nicaraguan soccer academy (Academia de Fútbol Cocibolca on Facebook) that works with disadvantaged boys between the ages of 6 to 18. The Academy seeks to provide these at-risk youth with a positive sports experience to enrich and improve their lives.
Nicaragua is the second poorest country in the Western Hemisphere and both recent political events and the pandemic have made life there even more difficult. Your donation allows these children to play organized soccer in a supportive environment and to experience all the positive benefits of a team sport.
Words cannot express our gratitude to the LUSC community for its incredible support of these past efforts. Every piece of soccer related clothing or equipment that you see in the photo above came from a generous LUSC family. Your generosity has a direct and powerful impact on the lives of these boys.
This year we are looking for donations of:
Soccer cleats (smaller sizes prioritized)

Soccer balls, all sizes

Shin guards
Soccer socks
Soccer shorts
LUSC and LPDA uniforms only
Goalie gloves
Our deadline for the donation drive this year is SUNDAY, SEPTEMBER 20, 2020 .
Please drop off your items in the receptacle on the front porch at 66 Ledgelawn Avenue in Lexington. If you have any questions, please e-mail thomasboreiko@gmail.com or call 617 283 0090 (Tom's cell phone).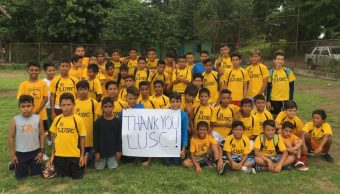 Thank you very much.
Sincerely,
Tom Boreiko and Alison Coolidge