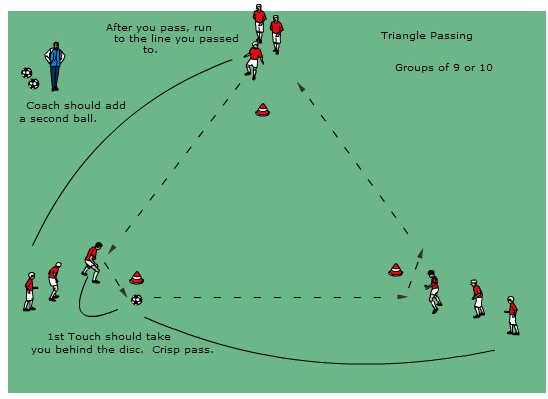 Game: Divide team into three groups. Play and follow your pass to the next line.
Note: Players shouldn't stand so close to the discs. Ask them to remain a few yards off to the side and slightly behind the disc so their first touch can "clear the space". Players that are in line shouldn't crowd the player getting ready to play or receive the ball.
Focus:
Crisp passing
Good 1st touch
Stay on your toes ready to receive the ball
Variation: Coach should add a 2nd ball once the players have gotten into a rhythm. This should happen fairly quickly. Change the direction of the ball and players movement. This will ensure players are two-footed.
Progress to:
The Game: Add a combination at the top of the triangle. Diagram shows two balls. You can start with one ball and add the second. Play and move to support. The receiving players should step and meet the ball, call for the ball.
Focus:
Crisp pass on the longer ball
Softer pass on the drop pass/combination.
Quick movement to suppoPlayers need to keep their focus, be sure to support the ball after your pass.
Note: Change Direction of the Ball to ensure two footed players. This is a much more active exercise and demands more technical ability than the initial phase!
The Game: There are now three distinct movements at each disc.  At the bottom of the picture you do the initial movement of passing and following to the end of the line.  The receiving player "clears the space" behind the disc, plays to the next line (top of the triangle) and moves to support.  A one-two combination ensues.  The last element is running with the ball.  After receiving the return ball the player now "runs with the ball" to the initial line.
Focus:
Passing
Receiving
Dribbling
Communication
Note: Coach should demand that all movements are done crisply and with lots of energy.
[
print/download this exercise
]
---
If you enjoy this exercise Coach Donahue recommends: