Registration for the Spring 2023 K-2 program will be opened mid-January.
Fall 2022
Kindergarten:

9 Weeks, 9/17/22 – 11/12/22
Cost is $115.00
A reversible pinnie is required, and can be purchased at Tricon if you don't have one.
Must be 5 years old by 8/31/22 or be enrolled in a kindergarten program for fall 2022.
Kindergarten Girls: 10:15am-11:30am
Kindergarten Boys: 12:00pm-1:15pm
Grades 1-2:

10 weeks, 9/10/22 – 11/12/22
Cost is $130
Registration deadline is extended to 8/15/22. A late fee of $20 is applied after the deadline.
A reversible pinnie is required, and can be purchased at Tricon if you don't have one.
2nd Grade Boys: 8:30-9:45am
2nd Grade Girls: 10:15 to 11:30am
1st Grade Boys: 12:00 to 1:15pm
1st Grade Girls: 1:45 to 3:00pm
Program will consist of 45 minutes of activities and 30 minutes of games.
To confirm what age group you should register your child for, review the LUSC Age Group Policy.
Location: Diamond Field
Uniform: Reversible Mesh Jersey K-2 (available directly from Tricon Sports)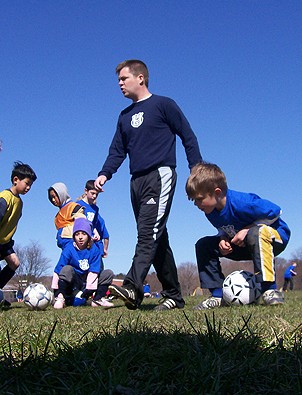 Fall and Spring program for the Lexington kindergarten, 1st & 2nd graders on Saturday mornings at Diamond Field. Residents of Hanscom Air Force Base are also welcome to register.
The main focus of our club is that the players have an enjoyable experience while learning the game of soccer. At 2nd grade and below, the game of soccer you'll observe each weekend won't resemble the US National team or the Revolution, nor should it.
First things first: Learning advanced soccer techniques and tactics is completely unimportant at this age level. However, this does not mean we won't teach kids to play soccer. Kicking the ball in a given direction, running and moving the ball with your feet, stopping the ball without using your hands, shooting at the goal, and blocking shots: These are the basic elements of soccer that we aim to teach children by leading them in various exercises and by simply letting them play the game. Each Saturday parent volunteer coaches will follow a practice plan developed by the LUSC Director of Coaching in conjunction with US Youth Soccer. Professional staff coaches will run a coaching demonstration for all volunteer coaches prior to the daily program and remain available to assist throughout the session. The major focus of the activities will be for all players to develop a comfort level and coordination with the ball.
Although the soccer ball will be the main focus of our training, we hope to enhance the child's overall learning experience by:
interacting comfortably with one's peers
dealing with both victory and defeat
respecting teammates and opponents
introducing, accepting and obeying the rules of the game
In addition, your child can:
develop his/her own style of handling the ball
learn how to move in a variety of situations
improve his/her coordination
have fun playing the game of soccer and being part of a team
We want every child to be physically active and have fun playing the game. The result of the game is of no consequence. Therefore, no score will be kept. Pre-school children are much more interested in chasing the ball and being involved in the play. This is natural and won't be discouraged. Positions can be learned down the road. We may ask a player to play "up front" or "in back", but all players will be given the opportunity to move about the field. Forcing a player to play in one spot all the time can lead to that player not enjoying the experience. The top priority of LUSC is that the players enjoy the experience.
Special considerations and changes for COVID
Please see the LUSC web site for the current COVID policy.
Equipment:
All 1st and 2nd grade players must bring a size 3 soccer ball to every session (write name and phone on ball). Most activities require each player to have a ball.
All in-town players wear a reversible mesh jersey, available directly from Tricon Sports. More uniform info here.
Players must wear their reversible jersey each week. On colder days the jersey may be worn over warmer clothing.
Players must wear soccer cleats or sneakers. Soccer cleats are not required, but are recommended.
Shin guards are required.
Soccer socks must be worn over shin guards so they are not exposed.
Each player should bring a water bottle.Players are not allowed to wear jewelry, earrings, hats, or anything metal in their hair for safety reasons.
Parent Volunteers
Parent volunteer coaches are essential to successfully run this program.
Parents can sign up to volunteer on their child's registration form.
The coach's child will be assigned to the team they are coaching.
Each team must have two coaches for the program to work effectively.
No previous experience is required.
All coaches are encouraged to attend our Introduction to Coaching Course taught by LUSC DOC Brendan Donahue.
Coaches will be provided with a weekly session plan.
Professional coaches will be available each week to: •
o Run a meeting prior to each session to go over the plan.
o Assist coaches and answer questions.
All necessary coaching equipment will be provided.
A criminal background check (CORI) will be conducted on all youth coaches per Massachusetts law.
Coaches must arrive at the field 30 minutes prior to each session for set up and a coaches meeting.
Field Etiquette:
No one should be on the goal sides of the field.
Please offer encouragement to both teams.
Parents should not give instructions to the players during activities and games.
Session Cancellation:
The decision to cancel due to weather or field conditions will be made by LUSC by 7:15 am. For more information go to: Rainouts & Reschedules.
Coaches will notify their player's parents. A notice will also be on the LUSC web site.
A session will not be canceled in light rain if field conditions are safe for playing.
Canceled sessions will be rescheduled if possible